NAS9310M4-07, CR3553-4-7, Aircraft Cherry Rivets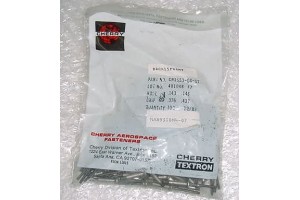 Bag of 100ea Universal Head Cherry Rivets. P/N NAS9310M4-07 or CR3553-4-7 or CR3553-04-07. Alternate P/Ns AF3553-4-07, AF3553-4-7, CR3553-4-7, HR3553-4-07, M7885/8-4-07, MIL-R-7885/8, NAS9310M-4-07, BACR15FR4M7. NSN: 5320-01-042-2893.

Rivet specs are:
Grip Range .376 to .437
Hole size .143 to .146
No certification. Bag of 100ea retails for over $200!!