Mark 7, FNA306A, Military Jet Aircraft Chart Plotter Board / Kneeboard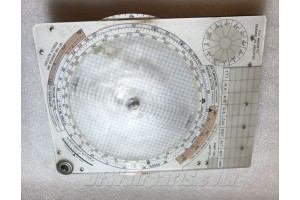 NEW / nos, Military Jet Aircraft Pilot Plotter / Kneeboard / Chart Plotting Board. Type Mark 7. P/N FNA306A. MIL-B-5046C specification. Stock # R88B0650-005-000.
It is the "SUPER DELUXE" model. It is battery lit with approach plate compartment. It comes with instructions booklet, even a pencil sharpener too!! It is nos, very old surplus stock with some light surface wear from being moved around. Unsure of size batteries it uses but they are not standard size. Sold for display only, as is, no returns.
Condition Code
Condition
NS