CR2538-4-1, NAS1739M4-1, Aircraft Cherry Rivets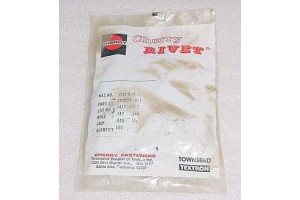 Nos, Bag of 100ea Countersunk Head Aircraft Cherry Rivets. P/N CR2538-4-1 or NAS1739M4-1. Alternate P/Ns NAS1739M4-01, CR2538-04-1, CR2548-4-1, CR2538-4-01, CR2548-04-01, CR2538-4-01, CR2538-04-01, CR2548-4-1, HE121-0018-4011, 00-842-1899. NSN: 5320-00-842-1899.
Rivet specs are:
Grip Range .045 to 1/16"
Hole size .143 to .146
If certification is needed, our company's C of C is available upon request, (please contact us if you have any questions prior to making a purchase). Bag of 100ea retails for over $200!!
Condition Code
Condition
NS