COMPLETE Italian Leather Hyde, Chestnut Brown / Rustique, 48sf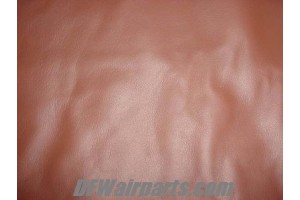 One COMPLETE Leather Hyde, left over from a new large business/executive jet that had a custom leather interior installed. Top of the line imported Italian Leather.
The color is Chestnut Brown / Rustique. It is a very warm and attractive color that can be used as a primary color or in combination with any beige color leather.
I have several hydes of the same color available. This particular hyde that is on sale in this listing is marked as being 48 square feet.
Italian Leather sells as high as $10 per square foot or more for top quality material!! Get it here for less than half per square foot and put it in your plane to give it the true luxury feeling. I am putting this material in my Cherokee too! I just love the comfort of leather!! Leather also cleans very easy!
It can be used for seats or on side panels or both.
Please note: The measurements of the material above, reflect the total area of material and does not necessarily mean that all material will be usable for your application. Keep in mind also that cow hydes are natural material and as such they are very irregular shapes and each and every one hyde differs from the next one and no two are alike and there may be slight color and / or texture variation between one hyde nad the next! The measurements of the material are approximate and material will have to be cut and sewn to your design/application specifications and not all material may be usable because of your design requirements and/or the size of the hyde purchased.
Please also note that the color of material shown on the photo may differ some from actual color of material because of your computer monitor color settings. Leather, as all natural materials, can have flaws and texture variations and as such one hyde from the next may differ ever so slightly in color at times. That is viewed by most as part of the natural beauty and characteristics of leather. Hyde is rolled up and will be shipped out rolled and folded and once received it should be unfolded. NO certification is provided with the material. Material is sold as is and no returns will be accepted. NO EXCEPTIONS!!
Several hydes are available. Please e-mail us if you have any questions OR if you need more than one hyde.
Condition Code
Condition
NS