AN76A-47, MS20074-06-47, Set of 6 NEW Aircraft Propeller Bolts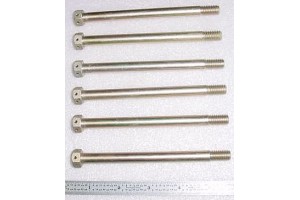 Set of 6 NEW Propeller Bolts.
Bolt specs are:
P/N AN76A-47 or MS20074-06-47
Tensile Strength is 125,000 PSI
Thread size 3/8-16
Diameter is 3/8"
Length is 4 7/8"
Grip length is 4 1/4".
Head is drilled three
ways for safety wire

These are VERY RARE bolts.
Condition Code
Condition
NS