Aircraft Upholstery, Italian Leather Pieces, Beige 2513/27/28/29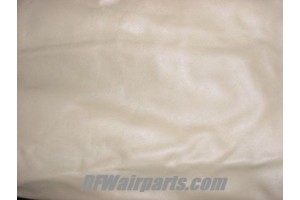 Lot of small and medium size Italian Leather pieces. Approximately 19 lbs (+ or -) of material.
The color is Light to medium Beige.
The pieces range in size and there are approximately:
Between under one sqare foot to about 4 square feet a piece, (a couple dozen pieces minimum included).
PLEASE NOTE: All the pieces included in this lot are faded some or discolorated and may be several shades of beige included in the lot. The best use for them would be to dye them before using the pieces or use them for small projects, unless you prefer the "distressed" look.
We have dozens of other leather lots, including complete hydes, ready to use. Just check thru our listings to see what is available.
NO certification is provided with the material. Material is sold as is and no returns will be accepted.
Condition Code
Condition
NS