Aircraft Tools- Mixed Lot of Draw Type Clecos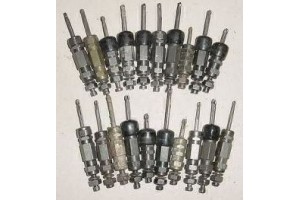 Mixed Lot of 20 Draw Type Clecos.
Lot consists of short, medium and long reach clecos. Sizes can be 1/8", 5/32", 3/16" and larger with no specific number of clecos per available size, (it varies per lot and each lot is not guaranteed to contain any specific size).
They are used in working condition, just came off the sheet metal shop and some of them will need some cleaning. They sell for about $5 each new. Actual clecos shipped may differ some from the ones shown on photo (diameter size and reach). Sold as is, no returns.
Condition Code
Condition
AR