68-04-714-G, 4E srs, Propeller De-Icer Brush Block Manual PDF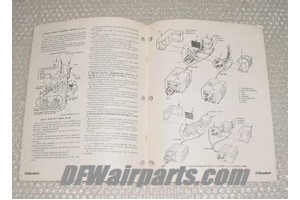 Aircraft BFGoodrich Electrothermal Propeller De-Icing System Brush Block & Modular Brush Block Assembly Overhaul Manual.
It covers Brush Assemblies P/N: 4E1213, 4E1283, 4E1294, 4E1311-1, 4E1311-2, 4E1311-3, 4E1327, 4E1350-1, 4E1350-2, 4E1350-3, 4E1350-4, 4E1350-5, 4E1350-6, 4E1387-1, 4E1387-2, 4E1387-3, 4E1387-4, 4E1387-5, 4E1387-6, 4E1560-2, 4E1639, 4E1749-2, 4E1908-1.
Manual P/N 68-04-714-G.
Manual is also available in print form. Please search website using "68-04-714-G" to purchase manual in print form.
Manual PDF will be emailed to you after purchase is completed.
Condition Code
Condition
NS