501580-401, 551-599, Aircraft Shoulder Harness Inertia Reel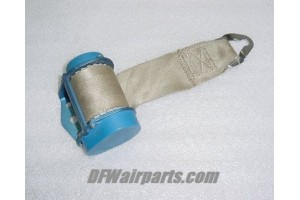 Aircraft Seat Belt / Shoulder Harness Inertia Reel, beige color. Manufactured by American Safety. P/N 501580-401. Piper P/N 551-599. It was removed from a salvage aircraft.
The seat belt webbing can be dyed to the color of your choice or it can be replaced if needed. We have available / in stock: white color webbing that can be dyed, black, gray and khaki / olive drab colors that you can purchase separately if desired. Please click on color name of your choice to see webbing details.
Condition Code
Condition
AR