1119224C, 1119224, 12 VDC / 50A Delco-Remy Aircraft Voltage Regulator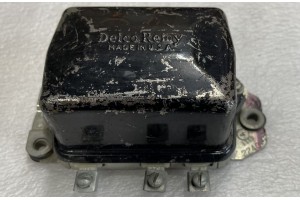 Delco-Remy Aircraft 12V / 50A Voltage Regulator as shown on photos. P/N 1119224C or 1119224 or 1119 224C.
Possible alternate P/Ns:
Delco Remy: 1118884, 1118713
Electrodelta: VR300-14-50
Cessna: 0413025-7, 0413025-9, 0413025-11
Mooney: 940035-501
Beech: 35-380142-9
Lycoming: 71745
DGR7-14-50
It was removed from a salvage aircraft. Multiple quantity available. File photos. Item shipped will be in similar condition and it may have chipped paint or scratches or small dings on cover not affecting regulator function. Please email before purchasing if you need to see photo of exact item that will be shipped to you.
Condition Code
Condition
AR