TUL-6174, Type 35MKIV, Airline Passenger Emergency Life Vest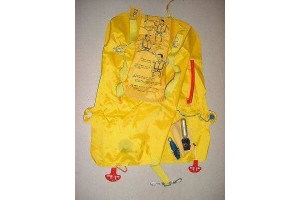 Airline Passenger Emergency Life Vest. Type 35MKIV. P/N TUL-6174. Surplus item from an International Airliner in very good working condition used for General Aviation also. Very clean item. Two CO2 canisters are still installed on it and they can inflate the vest with a pull of a cord. It can also be inflated with the mouth piece in seconds. Included also is a light attached to the vest as well as a whistle. The vest was inspected in 1998. Sold as a display item only, as is, and not as a life saving device unless it gets re-certified per FAA regulations. Sold as is, no returns.
Please note: USPS requires that this item be shipped by surface only. Item will have to be shipped alone with no additional items in package so please purchase this item separately from any other items. NO international shipping for this item.