Single Engine Cessna Electronic Installation Serv n Parts Manual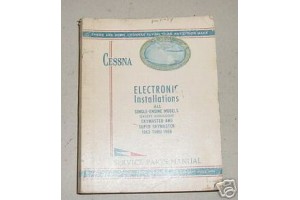 Cessna Single Engine, (Cessna 150, Cessna 172, Cessna 180, Cessna 182, Cessna 185, Cessna 205, Cessna 206, Cessna 210) and Cessna 336 and Cessna 337, (Skymaster, and Super Skymaster), Electronic Installations Service & Parts Manual for the years 1963 thru 1966.
Manual covers service information, illustrated parts breakdown and wiring diagrams for:
Cessna Radio Equipment Installations
Other Manufacturer Radio Equipment Installations
Antenna Installations
Audio Systems Installations
Electronic Wiring Diagrams
etc. etc.
It is in good condition. Original, over 2" thick manual. Sold for reference only, as is, no returns will be accepted.