Set of NEW Aircraft Propeller Bolts, AN76A-47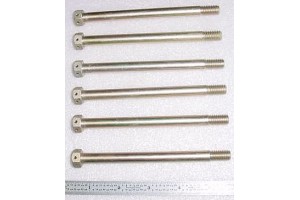 Set of 6 NEW Propeller Bolts.
Bolt specs are:
P/N AN76A-47 or MS20074-06-47
Tensile Strength is 125,000 PSI
Thread size 3/8-16
Diameter is 3/8"
Length is 4 7/8"
Grip length is 4 1/4".
Head is drilled three
ways for safety wire

These are VERY RARE bolts and most likely if you look for them you will probably have to substitute with AN6. If you can find them they sell for over $20ea. No certification.