9048M63P29, 9048M63-P29, General Electric CF6 Turbine Fan Blade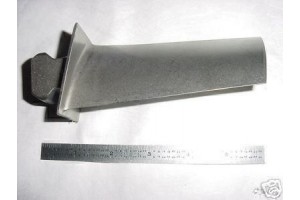 General Electric CF6 4th Stage Fan Blade. P/N 9048M63P29 or 9048M63-P29.
It appears to be an overhauled or possibly new blade but I have no paperwork for it at all and I am not certain of the condition so it is sold as a display item, as is. It seems to be made of titanium or inconnel which makes it almost a commodity due to the high value of titanium and inconnel. It would make an excellent show and conversation piece for the office or home.
General Electric CF6 engines have been installed on several military (C-5M Galaxy, KC-10A Extender Cargo Tanker, Boeing 767 (AWACS), Boeing E-4B, etc.) and civilian (Airbus A300, Boeing 747, McDonnell Douglas DC-10, etc.) aircraft over the years and still flying today all over the world.
Condition Code
Condition
AR