501301-401-2270, 9600-16, Set of Aircraft Seat Belts / Cream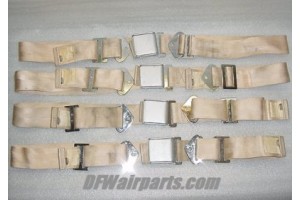 Set of 4 Aircraft Seat Belts / Light Cream color as shown on photos. Manufactured by American Safety. P/N 501301-401-2270 or 9600-16.. Rated strength 1500 Lbs. They conform to FAA TSO-C22f and they have the required placards.
Seat belts were removed from a salvage trainer aircraft and the webbing is in good condition but they are dirty from heavy use and will have to be cleaned at the very least or possibly dyed. Seat belts are sold as is, no returns will be accepted.
Alternatively, the seat belt webbing can be replaced. We have available / in stock: white color webbing that can be dyed to the color of your choice, black, gray and khaki / olive drab colors that you can purchase separately if desired. Please click on color name of your choice to see webbing details.
Condition Code
Condition
AR